Our experience
EUROVUDAS is manufacturer of log cabins, garden sheds, summerhouses and timber garages since 2003. 10 years we were selling our production to wholesalers from all over the world. In 2012 we launched our first e-shop in France, UK, Lithuania and start to work with individuals. In our website we offer a wide range of standard models, as well as a possibility to design and manufacture bespoke buildings. Roof and the floorboards are included in prices and for some models veranda included as well.
Each year, we are able to produce more than 10,000 wooden buildings to satisfy our customers. We export log cabins and wooden garages all over the world: Europe, Asia, Africa, Australia and North America.
Eurovudas team of professionals in production as well as sales department enable us to offer you the finest quality products and services at the very best prices. Customer focus orientation – we are offering professional service from cabin design, manufacturing to delivery to your yard.
Delivery
We deliver our wooden buildings in cooperation with number logistics companies. This enables us to deliver your cabin, garage or carport in a short time period straight to your door or garden. 
In 2010 Eurovudas was certified with AEO as a reliable business partner, referring to customs simplifications/security and safety.
Production process
In 2010 Eurovudas received the FSC certificate, which recognizes that the wood we use comes only from forests managed sustainably and in respect of the environment.
Thanks to the modern technologies that we use at each stage of the manufacture of our log cabins, summerhouses and garages, we can guarantee excellent quality to our products. Quality control takes place at every stage, from production to shipment. Each board is thus checked to ensure its easy interconnection with the others during construction. All windows and doors are also checked before shipment is sent to ensure they are in good working order. The products sold on our website are made from natural Nordic pine. We dry timber carefully in special kilns.
Assembly
Each garden shed is designed for easy assembly: only easy-to-use tools available at any DIY store will be needed. Parts are numbered for quick assembly. In addition to being easy, the construction is quick, and the final result is sure to please you.
Contact us
If you need any information or would like to receive our catalog, please do not hesitate to contact us directly.
Certified as Strongest in Lithuania
We are certified as Strongest in Lithuania. Strongest in Lithuania certificate confirms that the company is reliable and is very likely to fulfill their financial obligations in the future. The certificate indicates good economic position and financial results of the company, as well as its proper payment discipline. This is a proof of the contribution to the development of the Lithuanian economy and honest business culture. More information about this certificate please find: https://lt.creditinfo.com/en/the-strongest-in-lithuania/about-the-strongest-in-lithuania
In 2010 Eurovudas was certified with AEO as a reliable business partner, referring to customs simplifications/security and safety.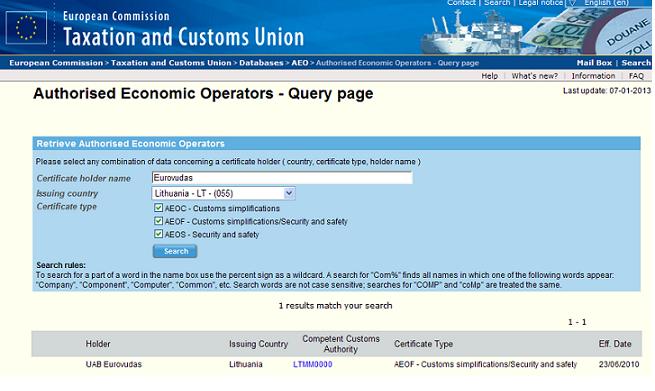 Manufacturing facilities